The Residence Villas Seminyak
Boutique-style Estate of Residential Villas
Seminyak is the heart of Bali's fusion culture. It is here where you will find all of Bali's best restaurants, shopping and entertainment. Here, designers, chefs and artists from all of the world work and play, to create all of that which has become known as Bali style. Yet, right here in Seminyak, you will find peace and tranquility, a spectacular beach, green fields, village life and ancient temples, all creating a truly unique and mesmerizing atmosphere. This boutique-style estate of just twelve luxury residential villas lies hidden in an elegant and upscale area in the heart of Seminyak. Bali's best restaurants and nightspots such as Ku De Ta, La Luciola and The Living Room are within easy walking distance and it is less than a kilometer to the beach.

For much of the year, Bali living means outdoor living. Bearing this in mind, the homes at The Residence all have large swimming pools, wooden decking and paved terraces, lots of greenery and come fully landscaped, ready to enjoy on the day of handover. Each garden has plenty of space to relax, sunbathe and entertain friends and family.

Two, three and four bedroom villas designed so that you can comfortably live here year-round. Situated in the heart of Seminyak, a short walk from the beach, The Seminyak Residence offers spacious, elegant homes built to the highest specifications, with several design options available so that you can individualize your home to your own taste. Each villa has, of course, its own parking, large private pool and landscaped tropical gardens. Uniquely, the Seminyak Residence is sold on 50-year fully paid lease with a guaranteed 50-year extension priced in gold, thus securing at least 100 years tenure.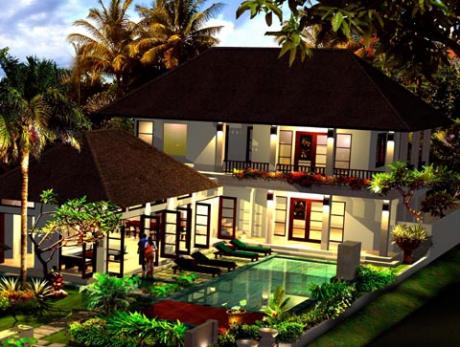 Please note that this listing is from 2005-10-14 and a historic reference only, not valid anymore or may be available on other websites....
Back to: Seminyak Villas Bali Villas for Sale
The Residence Villas Seminyak Pictures:
| | |
| --- | --- |
| Ownership | 50 years lease extendable to 100 years |
| 2 bedroom Villa | 150 sqm built area, 300 sqm land area, 7 x 4 M swimming pool |
| 3 bedroom Villa | 250 sqm built area, approx 410 sqm land area, 9 x 3.5 M swimming pool |
| 4 bedroom Villa | 450 sqm built area, approx 600 sqm land area, 9.5 x 4 M swimming pool |
| Architect | Jeghier Architect Associates |
| Security | 24 hour security services |
| Maid service | Yes |
| Completion | Guaranteed within 14 months from first payment |
| Annual Maintenance | between USD 3.000 and 4.250 USD |
| 4 Bedroom Villa | USD 395.000 |
| 3 Bedroom Villa | USD 325.000 |

All content © bali-indonesia.net

© 2001 - 2023 Bali Indonesia Realty - Privacy Policy - Terms of Use
BPI Bali Real Estate for actual Real Estate Listings