New Eurasian Style Bali Villa
Eurasian style villa with superior western building standard
The Villa is a Eurasian style villa with superior western building standards with exotic touch, built by an European architect with Europe highest quality standard by full personal supervision during construction.

You enter the villa from the parking area trough sliding doors (parking area is covered by a hanging garden automatically watered) by walking along a bamboo alee with automatic light and watering system this area has earned a lot of compliments as a patchwork of blocks hand finished with a natural sand tone colours were inlayed into grass and no two blocks are alike till the oversized custom made double teak main romantic Balinese entrance door of the Villa. This door is finest carved with unique Balinese style and will last forever.

The garage is for 2 cars. The Villa is built on https://realty.bali-indonesia.net/ land in T-shape to keep the whole garden space of 400m2 in front. The garden and the entrance walkway have an automatic watering system. All rooms have custom built big glass screen sliding doors and screen windows in 1A kiln-dried tropical marbau wood oiled and waxed, into the garden. Screen doors and windows are unusual in Bali on most villas because of their high extra costs.

Even the glass is inlayed into a silicon bed as we have not spared any expenses to insure the highest quality available in https://realty.bali-indonesia.net/ doors and windows maintain a pest-free environment while allowing you to enjoy the fresh breeze of air and the feeling of open living when you feel like it.

All rooms have wonderful daylight from sun rise till sun set (only the storage room has artificial light). The villa is constructed in a way that it uses the full light without having the sun in (only in the living room Japan garden with glass waterfall and fishpond and 2 old frangipani trees and orchids), the rooms are though nicely cool with great circulation throughout the villa. 4 big bedrooms (1 master bed room 45m2, 2 bedrooms each 30 m2 and 1 bedroom with 16 m2) 3 big spa-bathrooms ( 20m2, 15m2, 25m2) in terrazzo and sunken big bath tubes and massage area with open to sky shower with glass roof and with dressing areas (inside in terrazzo and glass with sliding doors in iced glass).

1 living room with open ceiling structure 46m2 and Japanese back garden with waterfall and fishpond and two old frangipani trees, 1 living veranda 36 m2, colonial flair closable with sliding windows and doors also open ceiling https://realty.bali-indonesia.net/ dinning veranda is 20 m2 colonial flair and closable with sliding windows and doors also with open ceiling structure and open to the kitchen. Big European kitchen 20 m2 in terrazzo (till the ceiling) and glass sliding doors easy to keep clean in European top design. Equipped with American fridge General Electrics with integrated ice cube machine, Japanese cooking surface, Gaggenau electric oven with integrated pizza stone and glass halogen cooking surface, two gas cooking units, one glass door fridge, Miele microwave and Pulthaupt kitchen block and Italian style sink with plate rack in inox steel. Next to kitchen and dinning is the Barbeque area 4m2 with grill and Italian pizza/bread oven and grill wood rest in inox steel.

Behind the kitchen is a big storage room with 10m2 and 1 guest toilette 3m2. There is an extra laundry, maid room, maid kitchen and maid bathroom equipped for two stay in staff all in terrazzo this area is 30m2 + laundry drying area. 1 office 19 m2 and one fitness room (or bedroom) 19 m2 or what ever use one wish. The house is all surrounded by terrace totalling up to 150m2 same as inside in terrazzo with beautiful design with 1A tropical merbau wood inlay lines. The Villa is easiest run due to its European standard by 2 pembantus of which one is also the cook and one gardener who is also the driver and maintenance boy and does the glass roof cleanings and once a week the pool hovering ? this is the maximum needed if one wishes so.

ALL rooms (including kitchen) are with AC as well as with ceiling fans.
ALL rooms are equipped with wonderful bright halogen light.
ALL rooms and the whole garden is connected to the music system of the house.
ALL rooms are equipped with double curtain railings.
All rooms are with luxurious Italian terrazzo floorings in beautiful design with 1A marbau wood inlay lines.

Even the laundry and staff area is in terrazzo. This famous Italian floor design was created several hundred years ago by Venetian workers and is only found in the finest homes in the world as its installation is enormously time consuming and is heavy costly. Pieces of glass are professionally inserted into the final coating and the entire floor is polished into a marble like finish which brings out the texture and unique colours. The final result is that of a very rich marble like finish, you feel like walking through an antic Italian villa. All electrical installation and water installation are European standard with earthen and all rooms are with telephone and TV and computer and Internet connection so perfect equipped for the modern traveller who wants to stay in touch with the world. We are one of the rears once in Bali offering this luxury.

The hot water is supplied over an Australian solar system RHEEM 300+160 Litre so no extra electricity charges and this is rare in Bali. The villa has its own Indovison and satellite antenna system and ALL rooms are connected to it. On clients wish we also supply Ultraviolet water purifying system for 99% drinking water supply with alarm control in the kitchen. All connections for installation are already supplied. There is a bio composting area if one wishes to use it for all daily biological garden and kitchen waste. Plastic and aluminium waste gets picked up daily without extra expenses if one likes to use this system in place.

The Villa offers a living space of 450m2. It is a wonderful Eurasian mixture with all European details to guaranty a comfortable way of life also during rain season and without any hazard by animal invasions in the various seasons or snakes. Further in avoiding the alang-alang roof it guaranties a spider and pest free life and has a long lasting life compared to alang-alang which has to be changed nowadays every 5 years. Huge sport swimming pool 14m x 4mx t 2,75m (inside dimensions) in concrete and terrazzo ? European highest standard construction with salt water system, automatic cleaning system (hovering is needed maximum once a week) and the pump house(which contains a high pressure power pump) /and garden storage 15m2 is hidden by a natural rock waterfall supplying the pool with oxygen and jump tower (with its own breakfast terrace with flowers around or as lovely play area) to dive into the 2,75m deep pool.

There is a Pool shower and towel area in terrazzo behind the waterfall. The pool and garden light switches on at sun set automatically and of at sun rise. The pools pump and filter system runs on automatic precisely timed system which so guarantees perfection in its duty. All equipments are Australian high standard equipments and imported. The nearby pool company supplies once a week automatically the only need for the pool ? one sack of salt for US $ 5,--. The whole area has a safe boundary wall around lined with 6 big beautiful frangipani trees, Rosalia bushes, Jasmine, white Gardenia Augusta all around the house. Japan grass is the carpet of the garden. In front of the office is a huge Erythrina tree blooming with wonderful Scarlet o Hara red flowers same in front of the kitchen veranda and the master bedroom. This beautiful Landscaping is allincluded in the price of the villa. The garden is constructed with a waste water system that even during heavy tropical rains the water vanishes so the grass can not get sour or the whole area muddy. This system guarantees a beautiful green garden the whole year long. The garden as well has an automatic watering system on time switch. The Villa has very nice and VERY CLEAN neighbours on 3 sides (right and front a Balinese psychiatrist family, left a Balinese business man?s family and a Viennese businessman and on the entrance side Villa YLANG-YLANG (which is an extra high security bonus to have being nestled in this charming secure neighbourhood). In all neighbour gardens are huge coconut palm trees what gives the jungle feeling to this Bali Villa without having the stress of cleaning out the trees every 3 months or being hit by a falling coconut.

The outside walls of The Villa are covered in beautiful exotic cream colour Balinese stone bordered by grey Kerobokan stone a Balinese tradition in our modern view which blends in beautifully and gives the house its rich look. The beauty of this area is that there is no street noise only bird sound and 10 minuets to the beach or International School and so without maintenance stress caused by salty air breeze. The Villa is built according to our experience with the touch of Asia?s beauty but with the quality and the comfort of Europe. With our experience we took care of making live as wonderful and easy as possible and keeping al hazard caused by not suitable materials or missing knowledge or nature of tropical life out of our villas.

The villa is equipped with https://realty.bali-indonesia.net/ Watt electricity connection which runs over a big in-house stabilizer. The extra supplied computer line for all rooms is double stabilized. The electricity bill is between US $ 170,-- to US $ 190,-- each 20th of the months payable. The quality of material and workmanship is not only apparent in the finishing but also behind the scenes.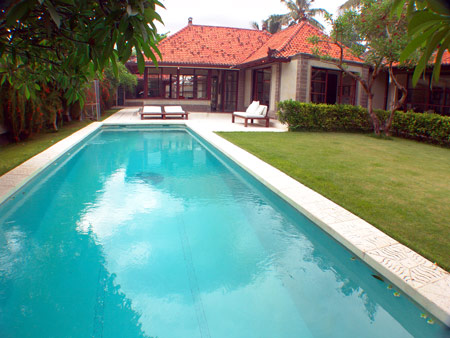 Please note that this listing is from 2005-11-22 and a historic reference only, not valid anymore or may be available on other websites....
Back to: Sanur Rent & Sale
New Eurasian Style Bali Villa Pictures:
| | |
| --- | --- |
| 21 years Lease | Total price USD 316.200 (68% immediate payment of USD 215.000 and 32% balance payable annually over 21 years) or fully paid. |
| 31 years Lease | Total price USD 362.200 (60% immediate payment of USD 215.000 and 40% balance payable annually over 31 years) or fully paid. |
| Lease | prolongable 10 year in contract |

All content © bali-indonesia.net

© 2001 - 2023 Bali Indonesia Realty - Privacy Policy - Terms of Use
BPI Bali Real Estate for actual Real Estate Listings