Bali Vakantie Park - Holiday Park
Beach front Accommodations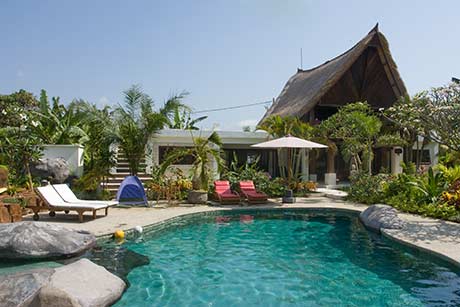 Bali Vakantie Park (Holiday Park) The Bali Holiday Park (vakantie park) is a small scale and cosy resort in the North of Bali, located right on the beach front. On the https://realty.bali-indonesia.net/ acre (5000m2) grounds there are various types of accommodation, including luxury villas. All accommodations are air conditioned, and have a pool. Wireless internet is available in all accommodations. A small restaurant is located in a boat on the beach. The park has a 170 hp motorboat for rent as well. (Nice for dolphin watching trips!) And of course the accommodations have staff to pamper you.

Special on this resort are the two original old houses, one from Djokjakarta and one from Sumatra. These houses have been disassembled and rebuilt in their original state on the Holiday park.

In total the resort has place for about 28 people, but if you just come with 2 people, you will still have good privacy, accommodation is rented out by https://realty.bali-indonesia.net/ Because of the popularity of this resort, please book in advance. It is an ideal place to get to know (the North of) Bali, and definitely an unique spot, with an atmosphere you can not find anywhere else on Bali.

Voor de mensen die Nederlands spreken: Het vakantie park is eigendom van Nederlanders, u kunt uw mail in het Nederlands https://realty.bali-indonesia.net/

Please note, the mail from this site will be send directly to the owners of this Holiday park.

More information here: Bali Vacation Park

In Dutch: Bali Vakantie Park



Please note that this listing is from 2007-09-28 and a historic reference only, not valid anymore or may be available on other websites....
See: North Bali Bali Villas for Rent Bali Beachfront













For Rupiah Exchange:
Rupiah Exchange Rate Bali
(AUD Dollar)
| | |
| --- | --- |
| Longer terms | Negotiable, please mail through site. |
| Please Note | Prices are per accommodation, NOT per person.. |
| Original Djokja House | EUR 215 per week (max 2 pers) |
| Original Sumatra House | EUR 345 per week (max 4 pers) |
| Modern Stone Villa | EUR 550 per week (max 6 pers) |
| Modern Flower Villa | EUR 635 per week (max 6 pers) |
| Modern Lovina Villa | EUR 635 per week (max 6 pers) |
| Modern Buka Villa | EUR 690 per week (max 6 pers) |