Karimun Jawa Beach Property
1 Hectare of Paradise
Karimun Jawa is an island, 118 kilometers north of Semarang Central Java. Population is approx 9,000 people. From over 27 islands in the area, Karimun Jawa is the largest. Across a causeway to the north west is the island Kemojian, joined by road bridge. The nearest airport is in the north of Kemojian, and a harbor is in the south of Karimun Jawa. The island is accessible by charter plane form Semarang, fast ferry from Semarang or vehicle barge from Jepara central Java. There are solid plans for a flight service from Denpasar, Bali, in order to increase tourism.

The property is on the south east coast of Karimun Jawa situated directly on the beach, The property for sale is Hak Milik and has its IMB (building permit) and written permission from Taman National to build the gazebo and jetty over water land. The size is 1 hectare (https://realty.bali-indonesia.net/ acre), and is located approximatly 1 km from the boat harbour.

The house size is 600m2, and constructed from merbau, bangkirai and ulin wood. Outside all fixings are stainless steel. Bolts, pins, screws and foundation steel brackets are hot dipped galvanised steel. It has 2 large bedrooms each with an ensuite bathroom, air-conditioning and furniture.

The main bedroom at the front has million dollar views of the ocean and national park. Its a very large room approx 16 x 6 m, with dressing room and ensuite bathroom , it would be possible to divide this room to 2 or even 3 bedrooms. There is a utility room upstairs designed to hold lined towels etc. Verandas lower and upper levels, total 160 m2. The upper veranda has alang alang roof for shade. The lower living area has open plan kitchen, separate toilet, shower and 2 utility rooms off the side. The front half of the living area can be opened up totally with doors to allow breezes in.

Gardens are established and the property has many mango, jambu, metah, bananas, jackfruit, and coconut trees. The ocean gazebo is approx 16m2. Jetty is approx 50 metre long.

The property has its own well for fresh water, and the mountain water quality is very good. City water connection is available too.

Electricity is by genset 25 kva, and 10 kva backup local power from PLN is available at a cost of approx 20,000,000 for installation.

The house will be sold furnished, has a large refrigerator, kitchen appliances, pool table and furniture.

Copy of the certificate is available. There are 3 permanent employees; manager, gardener and a house boy/gardener. They are available to stay on, or can be let go at point of sale.

The asking price is 3,600,000,000 rupiah and is slightly negotiable.

Inquiries will be send to the owner directly.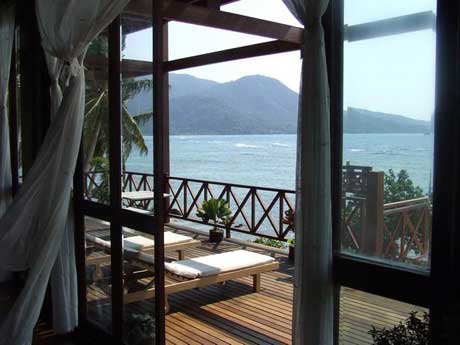 Please note that this listing is from 2008-08-24 and a historic reference only, not valid anymore or may be available on other websites....
Back to: Jakarta and Java Other Listings
Karimun Jawa Beach Property Pictures:

All content © bali-indonesia.net

© 2001 - 2023 Bali Indonesia Realty - Privacy Policy - Terms of Use
BPI Bali Real Estate for actual Real Estate Listings