Jakarta House for Rent
Exclusive House in Bintaro - Jakarta
A diplomat family is leaving the country on next June 2016 and a new exclusive house is now available for rent starting July 2016.

It is a 2 level home (total 300 sq meter/3229 sq feet or 150 sq meter/1614 sq feet each level) on +/- 400 sq meter land (eqv. 4305 sq feet) located in a residential area with no-fence neighborhood policy, a gated complex and security through a magnetic card only to enter the complex.

The Jakarta house has 4 bedrooms, 3 bathrooms (1 is en-suite bathroom) and a large garden (almost 1/3 of the total land). There is an indoor open-air courtyard. The house is located at a cul-de-sac ( no through road) resulting no high traffic around (good for kids playing around the house). It is also located on the corner of the street giving a large view for residents and free air flow in and out.

It has an unique home design with a large open space area resulting enough sunlight entering the house on daytime (minimum electricity usage) and allowing good air circulation.

Further: A modern full marble kitchen set with a fridge, microwave, gas cooker/oven, a large family room for a medium function (can cater 40-50 people, inside the house + in the garden). A maids quarters (consist of 1 bedroom, 1 living room, 1 kitchen, 1 bathroom for the maid and a service area for washing, clothes hanging and ironing).

Separate garage and carport can accommodate 2 cars. Full air conditioner in every bedroom. Telephone line. Cable TV 50+ channel available (separate subscription fee). Wi-fi internet available (separate subscription fee). A Club House located only 150 meters/500 feet from the house with a Swimming pool, Fitness centre, mini soccer, basket ball, volley ball operates all day https://realty.bali-indonesia.net/ am - https://realty.bali-indonesia.net/ pm (family membership is included in rental fee).

A community park, gazebo and jogging track are exclusively available for the tenants in this sub-cluster located only 100 meters/340 feet from the house.

It is an established expatriate community with several International schools conveniently located within the area. eg. British International school, Japanese school, Swiss-German University, etc

The house is located in an exclusive cluster at sector 9 Bintaro Jaya area with a modern, tight security systems and ECOmmunity approaches, where everything is designed to follow green environment. There are 4 layers of security systems. The most outer area is protected by Indonesian Police force stations in every gate of Bintaro Jaya. The second layer is a security station under private security company in front of Puri Bintaro cluster (ID card checking). The third layer is a station in front of Taman Puri Bintaro sub-cluster with a magnetic car access only. And the last layer is a security station for the block no PB35, where the house is located.

Jl. Puri Juwita Block PB35 #8

Taman Puri Bintaro (cluster) Puri Bintaro (Town House) Bintaro Jaya sector 9 (Housing Estates) Bintaro (suburb) South Jakarta

Rental Prices: USD 950/month (unfurnished, min. 2 years) USD 1500/month (unfurnished, min. 2 years) or customized cost on top of either the above cost (if you want to include the amenities in one bill, such as electricity, water, club house membership, cable TV, internet, phone bill, etc)Further Information available directly from owner, send an email through the contact form.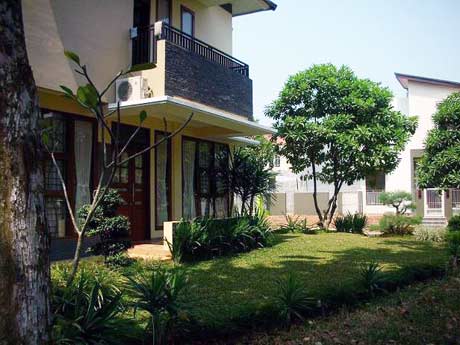 Please note that this listing is from 2009-01-22 and a historic reference only, not valid anymore or may be available on other websites....
Back to: Jakarta and Java
Jakarta House for Rent Pictures:

All content © bali-indonesia.net

© 2001 - 2023 Bali Indonesia Realty - Privacy Policy - Terms of Use
BPI Bali Real Estate for actual Real Estate Listings