Luxury Bali Beach Villa
Beach and River front Property in North Bali
This Villa is a breathtaking new luxury 6 bedroom beach and river front property in North Bali. The Villa, situated on https://realty.bali-indonesia.net/ hectares of beautifully landscaped and maintained private beach gardens, offers stunning ocean, river and mountain views. The Villa is located about https://realty.bali-indonesia.net/ hrs' drive from Bali's international airport (or 30-40 minutes by helicopter, helipad available) in the tranquil Lovina beach area.

Lovina is becoming more and more popular with people who know how to appreciate the real Bali, and this villa occupies a prime beach front location in the more rural North. The villa has two floors. The spacious master bedroom, which overlooks the ocean and has a Jacuzzi in the bathroom, and 2 additional bedrooms with bathrooms en suite are situated on the ground floor. The top floor has an office with computer and Internet (WIFI) connection and a printer as well as a library. Adjacent to the office is the 4th bedroom that enjoys garden and ocean views.

Each bedroom has air-conditioning, self controlled satellite TV and stereo. All rooms are spacious, indulgent and exclusive. The living and dining area has about 195 square meters, is air-conditioned and includes a grand piano. This villa accommodates 8 people (4 couples) comfortably. It has a small marina with a boat and jet ski, a tennis court and a golf driving range. The villa has excellent privacy with ± 140 m2 of terrace. The infinity pool is 18x9 meters large. There are two Jacuzzi baths, one outside near the main pool and one in the master en suite.

Small marina with a boat and jet ski and a professional operator who will show you dolphins or take you snorkeling. Additional costs will be charged to use this facility at USD 30 per hour for a max of 6 persons.

The Beach Villa has a permanent staff of 12. 1 manager - 2 butlers who will assist the guests and guarantee that they feel comfortable and enjoy their stay. 1 professional Indonesian, European and Chinese cook. 2 maids - 3 security guards (24 hours) - 1 water sport operator - 2 gardeners- 1 driver.

Email will be forwarded to the owners of this villa.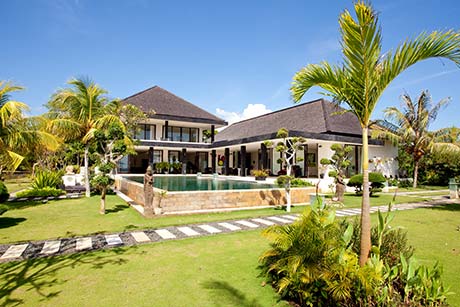 Please note that this listing is from 2009-05-25 and a historic reference only, not valid anymore or may be available on other websites....
Back to: North Bali Villa Rentals Best Villa Rentals
Luxury Bali Beach Villa Pictures:
| | |
| --- | --- |
| Special price for June 2010 | EUR 1500 per week. |

All content © bali-indonesia.net

© 2001 - 2023 Bali Indonesia Realty - Privacy Policy - Terms of Use
BPI Bali Real Estate for actual Real Estate Listings