Villa Tangu Beach
2 pool villa - 2450m2
A beach villa just 15 minutes west of popular Lovina. Land area is 2450m2 en total beachfont is 50 meters(!).

See the Youtube Video: Villa Tangu North Bali Video

See Virtual Tour : Villa Tangu Virtual Tour

Villa consists of 2 buildings, each with their own pool. The main villa building has a living, 2 bedrooms with bathroom, kitchen and on the second floor a comfortable lounge. On the third floor there is room for an artists atelier. The guesthouse has 2 bedrooms, each with their own bathroom. All bedrooms have an air-conditioner. At the entrance of the villa their is plenty of parking space. The staff have their own facilities. The villa has excellent privacy and is located about 1,5km from the main road. From the villa grounds one can see ocean and beach, rice paddies and the mountains. Furnished. Owner can live in the villa guesthouse, and rent out the main villa.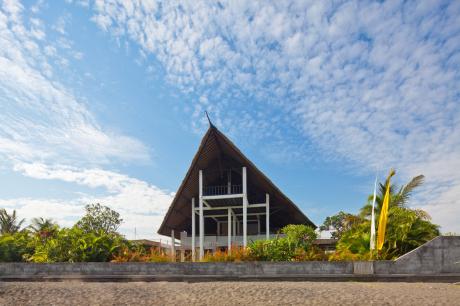 Please note that this listing is from 2011-03-09 and a historic reference only, not valid anymore or may be available on other websites....
Back to: North Bali Bali Beachfront Bali Villas for Sale
Villa Tangu Beach Pictures:
| | |
| --- | --- |
| Ownership | Hak Milik (Freehold, nameholder construction) |
| Bedrooms | 2 in main building (and atelier), 2 in guesthouse |
| Bathrooms | 3 |
| Water | Government water and well. |
| Electricty | 10.000 watt |
| Pools | 2 (one for guesthouse) |
| Build | in 2008 |

All content © bali-indonesia.net

© 2001 - 2023 Bali Indonesia Realty - Privacy Policy - Terms of Use
BPI Bali Real Estate for actual Real Estate Listings