North-West Bali Beach Plots
2 hectare available
About 30 minutes west of Lovina and 45 minutes from the new proposed airport.

Beautiful beach area with palm and mango trees.

2 Hectare available (https://realty.bali-indonesia.net/ acre). (Still) Dividable in many sizes, but minimum size is around 30 are (3000m2), giving you a 30m wide beachfront. The land is 100 meters deep.
Plots are sold including road access, electricty, water supply, basic garden and notary costs.
We have various types of villas we can build for you, see samples here:
North Bali Villas

Do you want to see what North Bali may have for you? Existing villas or new developments? (available from april 2011) Take the tour and visit us. Make an appointment by email with the contact form.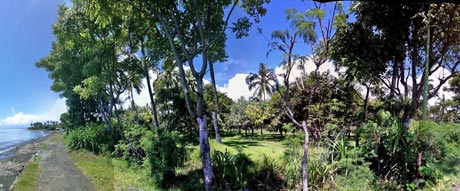 Please note that this listing is from 2011-04-27 and a historic reference only, not valid anymore or may be available on other websites....
Back to: North Bali Bali Land for Sale
North-West Bali Beach Plots Pictures:
| | |
| --- | --- |
| Ownership | Hak Milik (freehold) |

All content © bali-indonesia.net

© 2001 - 2023 Bali Indonesia Realty - Privacy Policy - Terms of Use
BPI Bali Real Estate for actual Real Estate Listings