Lovina Villa for Sale
16.9 Are in Lovina 4 bedrooms total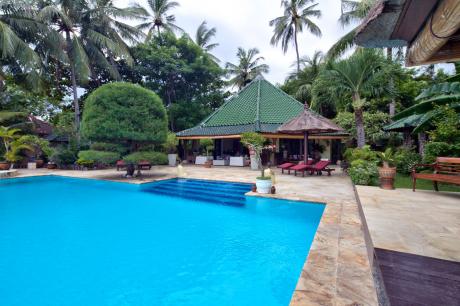 Lovina beach villa set in a luscious garden, right on the beach front, just a few minutes from Central Lovina, a perfect location, not only to live, but also for rentals. Total area of the property is 1690 m2 (https://realty.bali-indonesia.net/ are). The beach front is 55 meters (!) wide. The ocean is very quiet and shallow in this area, and safe to swim. A bit further out the ocean there are coral reefs, beautiful places for diving and snorkeling.

The main villa has an octagonal design, and two bedrooms. There are two guesthouses on the property, one stone and one wooden beach house, giving a total of 4 bedrooms. The layout of the property makes that the guesthouses have plenty of privacy, and are ideal for friends and family who want to stay over. The stone guesthouse has a kitchen.

For people who like some form of water sport this is a good location, the current owner has a jet ski.

Lovina Villa Youtube Movie

Please note that this listing is from 2013-04-14 and a historic reference only, not valid anymore or may be available on other websites....
See: Bali Beachfront North Bali The Best of Bali

















For Rupiah Exchange:
Rupiah Exchange Rate Bali
(AUD Dollar)
| | |
| --- | --- |
| Ownership | Freehold (Hak Milik) |
| Landsize | 16.9 are (1690 m2) |
| Villa Bedrooms | 2 |
| Guest House Bedrooms | 1 |
| Ocean Lumbung Bedroom | 1 |