Lovina House - Anturan
Hills above Lovina
Beautiful house for sale in the hills above Lovina, North Bali. The house is built on 600m2 of land. The house has 2 bedrooms, one of the rooms serves as a living / bedroom has an open kitchen and large bathroom. The other bedroom has its own bathroom and own terrace. There is a small carport at the entrance of the property. Nice and very green garden, with views over the ocean. Large covered terrace. Located in the hills above Lovina, free from the rumble, but close enough to all the restaurants and shops. About 3hrs from the current international airport.

See Lovina House Movie

Currently owned by foreign / Indonesian couple.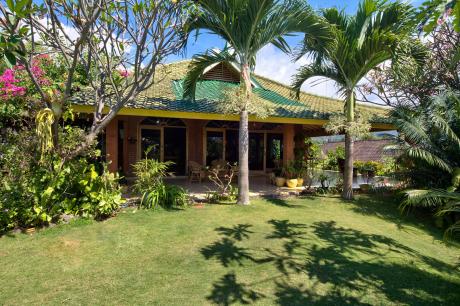 Please note that this listing is from 2013-08-26 and a historic reference only, not valid anymore or may be available on other websites....
Back to: Cheap Property North Bali Bali House for Sale
Lovina House - Anturan Pictures:
| | |
| --- | --- |
| Ownership | Hak Milik (freehold) |
| Land Size | 6 are (600m2) |

All content © bali-indonesia.net

© 2001 - 2023 Bali Indonesia Realty - Privacy Policy - Terms of Use
BPI Bali Real Estate for actual Real Estate Listings