Bali Villas - Mandala Desa
Lush gardens delight the senses with stone statuary, water features.
Mandala Desa shows Balinese craftmanship pleasing the eye from the moment one enters the carved stone gate and meets the traditional detail that adornthe architecture. Lush gardens delight the senses with stone statuary, water features and rare flora. The pool allows unending views of rice fields, refreshing the body and melting away stress. Dining in open air pavilions offers traditional Balinese fare as well as select dishes from western cuisine, with emphasis on exotic local ingredients and food from the onsite organic garden. The intimate size of just 2 villas and 3 suites ensures a high level of personal service and a relaxing atmosphere. We at Mandala Desa share a love for Bali and an enthusiasm for sharing the traditions of its fascinating culture. Elizabeth was born in Indonesia and has been coming to Bali since childhood, while George first visited seven years ago and immediately fell in love with the island. Our staff is part of our family and has a genuine desire to ensure that our guests have a delightful stay. They take pride in showing visitors authentic Bali, from the rituals of daily life to the spectacular ceremonies. We invite you to come to Mandala Desa to relax, explore, dream, and feel at home in another world. Bali contains an astonishing diversity of landscape and cultural activities. Even those of us who have lived here for years are amazed to still be "discovering" special places and artists. The lush landscape immediately captivates one's imagination. Hills and mountains loom spectacular, deep gorges plunge downward, revealing dramatic views and rushing rivers. Glistening beaches range from pure white to glittering black volcanic sand. The other key destination is Ubud, known for its cultural activities, shopping, excellent restaurants, and the ever popular monkey forest. Ubud's many shops benefit from its proximity to the preeminent art centers in Bali. Batuan, Sukawati, Celuk, Mas, Batubulan, and Singapadu are home to the finest artisans and performing artists on the island. It's a must to visit this area to see the panorama of creative pursuits. Of course, the trick is to get of the main road and seek out the true masters.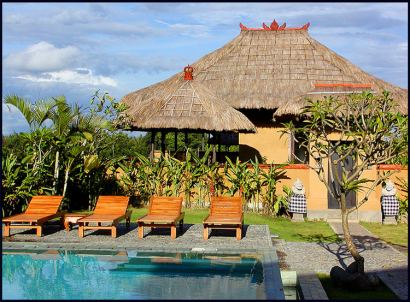 Please note that this listing is from 2003-10-15 and a historic reference only, not valid anymore or may be available on other websites....
Back to: Bali Villas for Rent South Bali
Bali Villas - Mandala Desa Pictures:
| | |
| --- | --- |
| Villa Rate per Day | USD 100 |
| Villa Rate per Week | USD 500 |
| Villa Rate per Month | USD 1500 |
| View Suite per Day | USD 85 |
| View Suite per Week | USD 425 |
| View Suite per Month | USD 1275 |
| Suite per Day | USD 75 |
| Suite per Week | USD 375 |
| Suite per Month | USD 1125 |
| Low Season | 40% discount until 14 Dec 2003 |
| Internet Access | Yes |
| Air Conditioning | Yes |
| Safe and Minibar | Yes |
| Bali Villas | Dining Pavilion and private garden, outdoor Garden Bath |
| Suites | Marble Baths with ovrsized terrazzo tub |
| Tours | Available on request |

All content © bali-indonesia.net

© 2001 - 2023 Bali Indonesia Realty - Privacy Policy - Terms of Use
BPI Bali Real Estate for actual Real Estate Listings