Anini Raka Resort and Spa
Feel the local culture of Ubud at the Aniniraka Resort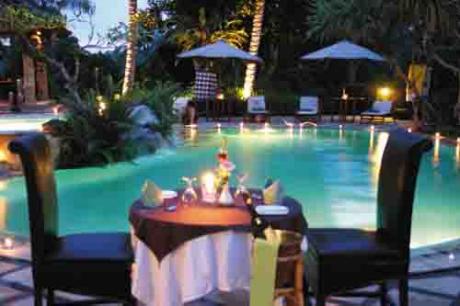 For immediate Sale:
Anini Raka Resort and Spa
Feel the local culture of Ubud at the Aniniraka Resort and Spa. Luxurious modern Balinese style pavilions set in the rice fields where you can absorb the local culture and ambience to refresh the senses. A complete haven for body and beauty treatments, an escape to paradise.
A private sanctuary in the Heart of Ubud. Aniniraka Resort and Spa is a small and beautiful boutique property, creatively built to blend the unique tradition of Indonesia architecture and the beauty of nature, located in a picturesque, authentic Balinese Village, just 60 minutes from Ngurah Rai International Airport. It is located in a complete natural, unspoiled and unpolluted environment. The stunning nature that surrounds the Aniniraka Resort and Spa, rice paddy fields, lush tropical vegetation, villages and temples, is the perfect setting for an ecologically friendly, enjoyable, peaceful, relaxed holiday.
Enjoy the delights of excellent International and local cuisines in beautiful surrounding and a peaceful, serene atmosphere. With its quiet and natural surrounding the Resort offers a very relaxing and peaceful atmosphere and as such it is an ideal place for total relation.
Aniniraka Resort and Spa, Ubud Bali
Property Type : Hotel for sale
Address : Jl. Raya Tjampuhan, Sanggingan, Ubud 80571
Nearby : Ubud Palace (2 Km/3 minutes) Museum Puri Lukisan (https://realty.bali-indonesia.net/ Km/2 minutes) Bintang Super market (400 M/1 minute) Land size : 26 are
Land view/setting: ricefield Land contour : flat and terraces Land access : 6 meters wide asphalt road Land Title: Freehold (Certificate of ownership)
Facilities and Services :
3 junior suite 1 Bed Room 1 junior suite 2 Bed Room 4 aster deluxe single view ( rice field ) 8 aster deluxe double view ( rice field n swimming pool ) 4 dahlia double view ( rice field n swimming pool )
2 swimming pool 2 meeting room ( upstaired guest lobby ) Resto ( 2 stair, upstair open air ) Spa Room with 3 spa bed Sauna unit ( 2 cabin )
Line : hunting ( 4 line ) Wifi n hot spot area ( cooperated with Bali Media net ) 1 unit genset unit back PLN ( 125,000 kva ), solar fuel PLN 41,000 watt Water Heater ( Rheem ) Cable TV indovision
Asking price : USD 10 millions

Please note that this listing is from 2015-02-09 and a historic reference only, not valid anymore or may be available on other websites....
See: Bali Hotels for Sale Ubud Area



For Rupiah Exchange:
Rupiah Exchange Rate Bali
(AUD Dollar)