Central Lovina Homestay for sale
7 room homestay with shop.
Balinese style homestay, 45 seconds walk from the beach and the famous dolphin statue, in the centre of Lovina. The homestay has a shop, and a 6 table restaurant. Typical balinese buildings, with woodcarvings and stonecarvings. 7 rooms, of wich 4 in 2 storey buildings. Located in a cosy street with restaurants. Space for another room or managers quarters on top of the restaurant.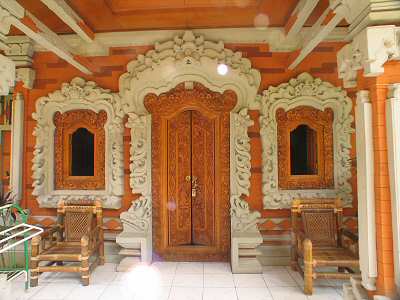 Please note that this listing is from 2003-11-21 and a historic reference only, not valid anymore or may be available on other websites....
Back to: North Bali Bali Hotels for Sale
Central Lovina Homestay for sale Pictures:
| | |
| --- | --- |
| Rooms | 7 of 25m2-30m2 (2 with AC) |
| Art Shop | 25m2 |
| Restaurant | 60m2 |
| Land Area | 500m2 (5 Are) |
| Telephone | Yes |
| Rupiah price | 1.500.000.000 rp |

All content © bali-indonesia.net

© 2001 - 2023 Bali Indonesia Realty - Privacy Policy - Terms of Use
BPI Bali Real Estate for actual Real Estate Listings